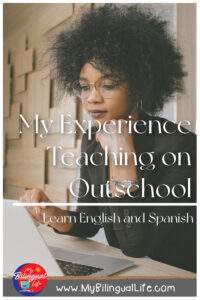 I first wrote this article in the middle of the quarantine in 2020 to tell you about something that's been happening to me. I know a lot of people at this time have been pretty bored or they're staying busy at home, but I have been really busy and I'm going to tell you why. I've been teaching on a platform called Outschool.  
Outschool is a platform that is made for teaching children from ages 3 to 18 pretty much in any subject that you would like.  There are academic subjects like math, reading, spelling, phonics, world languages, art, music, and computer programming.  There are even classes for fun things like Dungeons & Dragons, video games, movie trivia, sing-alongs, and show-and-tell.  There are all kinds of classes available on Outschooll so you can teach about whatever it is that you're passionate about.  
The good thing about Outschool is that you get to choose pretty much how you would like to teach. You can choose your class size so you can have a minimum amount of students for a class and you can also set a maximum amount of students. You can choose the age range and you can choose your rates. You get to decide how much you're going to charge for each class. Also, you get to set your own schedule. You can schedule your classes whenever you would like. There are people in all time zones taking classes on Outschool so you can pretty much work whatever time that you would like. There are several different class formats that you can choose. I'll tell you about those a little bit later.  You can teach one-time classes or you can have longer ongoing classes. 
Outschool does take a commission.  They take 30% of whatever you make from the class and then they deposit the rest into your PayPal account.   The 30% that they charge covers the transaction fees for Paypal and they handle all refunds.  Outschool takes care of the things with the parents.  They handle the technical support, and they also are doing quite a bit of marketing on Facebook.  
I'm not sure exactly how long Outschool has been working. I know I've been on the platform since about October of 2019. I had taught a few classes here and there but I wasn't getting steady bookings. Now with all the students at home Outschool is absolutely booming! I have done in the last three weeks what probably takes six to ten months to establish in "normal" times.  Right now my schedule on Outschool is extremely full. The only way I can grow really is to either add more students to my class or add more hours to my day. I'm very happy with Outschool.   
I will tell you there are some problems because of the crazy massive growth that they've been facing. Technical support and customer service right now are really backed up.  It takes quite a while if you have a question and you need to contact Outschool, it takes a while. Thankfully the platform is pretty straightforward so you probably won't have to ask too many questions.  I'm really not sure how long the onboarding process is. I know they're actively seeking teachers so I know there's a lot of people applying. I was approved within just a couple of days. Obviously, since you're working with children you do have to have a background check.   Usually, that takes a day or two to get the results back.  I'm not sure how long it takes right now. However,r as soon as you're on board you're ready to go.  
As I said, they are experiencing some growing pains but I have been extremely happy with my experience on Outschool. I've made a really decent salary these last few weeks. I've taught some really fun classes and I love it!  I can choose what I want to teach, I make my own lesson plans. I set my own schedule.  I really hope you give it a look.  I highly recommend it.  I've really been enjoying my time on Outschool and I plan to keep doing this and growing it as I can.
Watch the video here: