Birthday Traditions in Mexico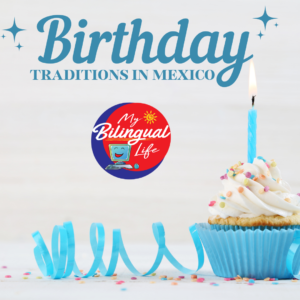 Part of the fun of learning languages is learning about the culture and traditions of other countries.  One of the things that can be different is the way birthdays are celebrated.  This article will discuss the birthday traditions in Mexico.
In Mexico, the tradition was to bring a serenade with a mariachi band early in the morning of the birthday.  They would sing the traditional song, Las Mañanitas, to the birthday celebrant.
Now, the serenade may not come early in the morning, but usually, Las Mañanitas is still sung at birthday parties.  Many families have taken on the tradition of having a cake with candles for each year the person has been alive.  However, there is a tradition that is very different.  In Mexico, after singing the traditional song, the birthday boy or girl takes a small bite out of the cake (after blowing out the candles if they are using candles).  Most of the time, this is followed by the family members shoving that person's face down into the cake!
Las Piñatas
Another birthday tradition is piñatas.  While piñatas were originally used for Las Posadas in December, many families have taken this tradition for birthdays as well.  This is a fun part of the party when all the children take turns hitting the piñata and diving for candy.
There is also a song that is sung to determine the time you can sing at the piñata. The family usually sings this as the child swings at the piñata and when the verse is over, that child's turn is done.  Usually, the children take turns from the youngest to the oldest so everyone gets a chance.  The birthday boy or girl will usually go first.
These are some of the more common birthday traditions in Mexico.  What traditions does your family have to celebrate birthdays?