I have a whole new selection of flashcards available on my Teachers Pay Teachers Store!  I created these cards from a necessity for my ESL classes at VIPKID.  I had bought some cards at the Target Dollar Spot, but they weren't quite what I wanted.  So, I made my own.  They were perfect to use in my bilingual classroom as well.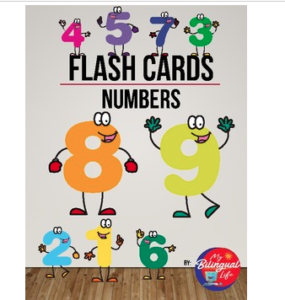 I made cards for shapes, numbers, and colors and they are available in English, Spanish, or a bilingual bundle.  Several more sets are in the making, keep watching my store for more updates.
These flash cards are great to use if your student got through the material early and you need to review vocabulary or even teach new words.  You can easily cover up the word on the bottom for a quiz style review.  The cards are larger in size so they show up well on the screen or can be seen across the classroom.  They are also great for learning centers.