I have several riddles products available for sale on Teachers Pay Teachers.  Riddles in the classroom are a great way to review vocabulary and get the students talking.  You can use the version created for Google Slides to project them to your whole class for group instruction, or you can use the printable versions.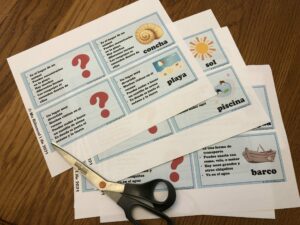 I like to use the printable version as a self-checking literacy center.  The riddles are aligned so the questions/clues are on the left side of the page and the answer is on the right side of the page.  Cut them first into strips horizontally.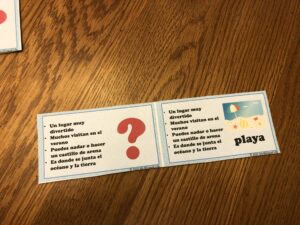 Then fold them.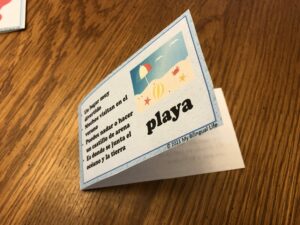 Finally, secure them together with double-sided tape or glue.  If you are going to laminate them (which I highly recommend), it won't make much difference as it just needs to hold together through the machine.  If you are not laminating, you may want to be more liberal with your adhesive.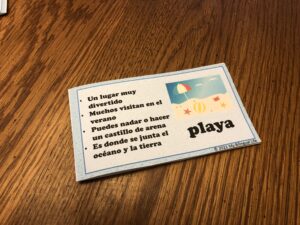 Again, I highly recommend that you laminate these if you are using them in learning centers as they can be cleaned better and hold up to little hands better.  Since I teach online, I can just use my printed cards with just a little tape as I am the only one holding them.
These riddles are an excellent review for vocabulary and keep the students engaged.  It also teaches more vocabulary that is being used in the clues.  My students love solving these riddles in my online immersion classes and I can easily vary the levels of support I offer.
Some ways to vary support:
students read the clues
teacher reads the clues
have the students explain the clues
help define words the students don't know
offer more clues to help identify the answer
repeat the clue in a different way
act out the clues when possible (use TPR)
let the student answer in the native language and ask partners/classmates for help remembering the target language word
I can also add more difficulty to the activity by mixing several sets of riddles together.  As an extension, I give the students a word and have them make up their own riddles.  Of course, this can easily become a writing extension as well.
My students love solving these riddles and ask to do this activity repeatedly.  I hope that you try these with your students as well to reinforce the vocabulary.  I'm sure that you will enjoy using these riddles in your classroom.
Here are some of our Riddle products available: