Selena Quintanilla Perez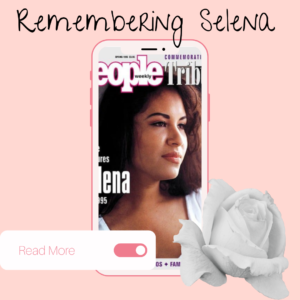 Selena Quintanilla was such a special person.  She had such talent and had so much potential that unfortunately was cut short by her untimely death.  She was born on April 16, 1971 in Lake Jackson, TX.  Soon, Selena's father discovered her musical talent at a young age and started a family band with her brother and sister.  In a few years time, Selena had won many awards for her music and had started a boutique with her clothing designs.  Unfortunately, on March 31, 1995, Selena's life ended when her fan club manager shot her.  Many people remember her great talent and her songs are still played around the world.
 Selena Quintanilla Popular Songs
A list-style post with 15 of the best songs performed by Selena
Learn Spanish with Como la Flor
This is our learning video that will help you with the words and phrases from Selena's Popular Song – Como la Flor.
Learn Spanish with Bidi Bidi Bom Bom
Our most popular video is  based on Selena's song Bidi Bidi Bom Bom.
Learn Spanish with Amor Prohibido
Selena Quintanilla Fun Facts
#1)  Selena's Family played in the band with her.
Selena's brother Abraham Quintanilla III (AB) wrote many of her most popular songs.  After her death, he continued making music with Kumbia Kings and later Kumbia All Stars.
#2)  Both Selena and Buc-ee's were born in Lake Jackson, Texas.
Buc-ee's is a popular gas station chain that originally was only in Texas.  It is known for having great food (including brisket sandwiches), clean restrooms, and plenty of gas pumps.
#3)  Then Governor, George W. Bush, declared April 16th Selena Day
A few days after her death, George W. Bush decided to give dedicate Selena's birthday as Selena Day.
#4)  Selena was in the film Don Juan Demarco with Johnny Depp and Marlon Brando
#5)  The commemorative issue of People was so popular, that they decided to create a Spanish version of the magazine.
Selena Listening Comprehension Activities
Here are the links to some information for using our listening passages about Selena.  The listening passages are great for learning English or Spanish and are short, easy to understand biographies or informative passages.
Listening Comprehension Passage about Selena in English
Listening Comprehension Passage about Selena in Spanish
These passages are also available as Reading Comprehension passages on Teachers Pay Teachers.  The Bilingual bundle includes both English and Spanish versions, or you can choose which language or format you prefer.
Bilingual Reading Comprehension Passages about Selena