Using Reward Stars in Your Classroom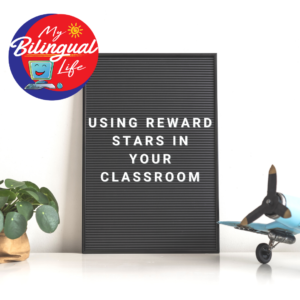 Online Classroom Rewards
Giving star rewards is something that has caught on with online ESL classes and distance learning.  There are multiple ways of using these reward stars in your classroom.  I'm going to give you several tips and tricks for using our reward stars.  I have seen these successfully used with teachers from many different online ESL platforms including VIPKid, Magic Ears, PalFish, GoGoKid, and more.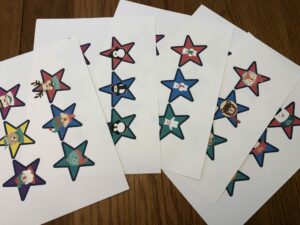 Before we start, I suggest that you cut out the individual stars.  You might decide how you would like to store them.  I store mine in ziplock bags separated by theme.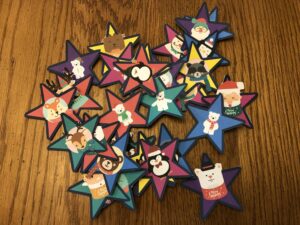 If you are using them in a regular classroom, I highly suggest that you laminate them.  If you are using them in an online classroom, I find that laminating them will often cause a glare in the camera.  They could potentially not hold up as long (but you are welcome to print my products as often as you like after purchase).
One way to use the reward stars is to attach them to a clothespin either with glue or tape.  Then you can simply clip the stars to a string you hang in your online classroom.  I have even seen teachers clip them to their headphone cord.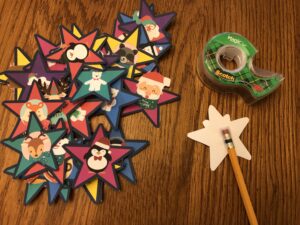 I like to have the reward stars attached to something so I can show the whole star to my students.  Attach them to a pencil, a skewer stick, a chopstick, a straw, or a popsicle stick (whatever you  can get cheap).  Then I can store the stars I am using in a coffee mug.
I also really like to use my stars with magnets attached.  Here I used magnetic "dots" glued to the back of the star.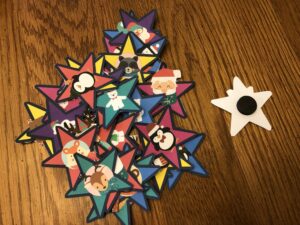 I do not have a larger magnetic background (great idea, but I can't attach anything big to the walls of my house).  I use a dollar store cookie pan to hold my awards and I display it in my background during class.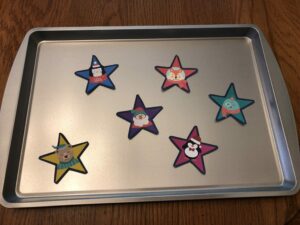 In-Person Classroom Use
The idea of the stars is to give a visible award to a student who is doing well.  I have also used these in my classroom in public school when I have a class award that we are working toward.  The themed stars could be used to track progress.  I could use the different stars for different guided reading groups.  For in-person classroom use, I laminate the stars and usually use the magnet backing.
You could also use them like brag tags by punching a hole in them and adding them to your brag tag rings.  You might print them on paper and make them into larger stickers.
What else can I do with reward stars?
I love to use reward stars to extend learning in my online ESL classes.  Depending on the student's ability, I can ask about the pictures.  I can ask about colors, types of animals, clothing, etc.  Don't neglect the opportunity to count the stars as well.  Using these rewards as a natural extension of the language is a wonderful use and engages the students in "real" conversation.  At the end, make sure to ask what star is their favorite and why.
Reward stars are a very versatile tool that you can use in your classroom whether online or in person.  I enjoy making the different sets and use them personally in my own classes.  You can see the sets of reward stars we have available on Teachers Pay Teachers.