We will learn a bit more about the celebration of Holi Festival- The Festival of Colors.  This Festival started in India but has gained popularity around the world for the fun colorful ways of celebrating.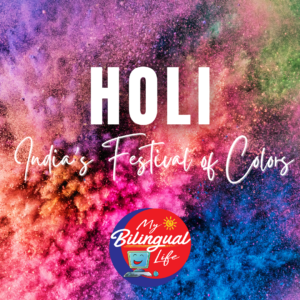 Where did Holi begin?
Holi is an ancient Hindu festival that originated in India, particularly in the northern regions of the country. Its exact origins are uncertain, but it is believed to have originated as a Hindu festival in ancient India and is mentioned in several ancient Indian texts.
Why is Holi celebrated?
The festival has been celebrated for thousands of years as a symbol of the victory of good over evil, the arrival of spring, and the end of winter. It is a time when you meet new people and repair broken relationships.  Over time, the festival has evolved and been adopted by different communities and religions in the region, including Buddhists, Jains, and Sikhs, and has spread to other parts of the world where there are significant Indian communities.
When is Holi celebrated?
Holi Festival is celebrated according to the lunar calendar which falls in late February or early March.   In 2023, Holi will be celebrated on March 8.
The Holi Celebration
The day before Holi, people light a bonfire to mark the victory of good over evil. This is called Holika Dahan, and people gather around the fire to pray and sing hymns. People also pray that evil is destroyed.
The day of Holi is when the celebration really begins!  On the day of Holi, people apply colored powder, known as Gulal, to each other's faces and throw water and colored water balloons at each other. This is a way of spreading joy and happiness and forgetting any past grievances. The colored powders are everywhere, and everyone ends the day covered in a rainbow.  There are parades and lots of singing and dancing.  The day ends with a festive meal.
The Significance of Color in Holi
During Holi, people use different colors, known as "Gulal", to play and have fun with each other. Each color used in Holi has a different significance and represents a different emotion.
For example, red color represents love and fertility, green color symbolizes new beginnings and harvest, yellow color represents turmeric and auspiciousness, and blue color represents the Hindu god Krishna.
In addition to these colors, people also use other bright colors to create a festive atmosphere and celebrate the arrival of spring. The use of colors during Holi is also meant to break down social barriers and bring people together in a spirit of unity and joy.
Holi Festival around the World
While the celebration started in India, today, people all over the world have adopted the celebration of Holi.  Many cities have "color festivals" or special activities to celebrate this fun festival.  Holi is celebrated with great enthusiasm and joy in many parts of the world and has become an important cultural festival that brings people together in a spirit of unity and harmony.
Resources for Teaching about Holi
I have created listening comprehension activities in English and Spanish based on the Holi festival.  Some of the resources include vocabulary videos, listening comprehension videos, and a teacher resource pack that is perfect for use in your classroom.
Holi English Listening Comprehension Resources
Holi Spanish Listening Comprehension Resources
Conclusion
This colorful holiday is made to celebrate the fact that good wins over evil.  This is a time for love, meeting new people, and repairing relationships. What better way to fix a relationship than to hit each other with colored powders!